Doctor Who Tour London'  offers unique, professional, informative and above all a FUN walking tour in London.
Our Amazing World of Doctor Who Walking Tour London Private tours (Unofficial) offers everyone a unique, light hearted look at 50+ years of London Doctor Who locations across the capital.
All of our guides are themselves Doctor Who fans and have grown up with the programme, with knowledge covering the shows history. You will find them happy to discuss the episodes together with pointing out other areas of interest.
Something for everyone! Fans young and old alike!
Why pick us why private tour?
No group tours your tour will be for your group only
Book the date and time that suits you
The tour will be at your pace
Not only see the locations but the clips from the series
All our guides are Doctor Who fans
You book directly with us
We have no booking fees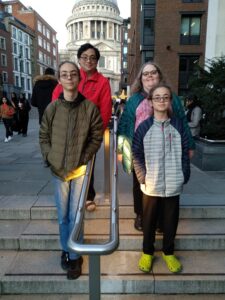 FAQ
Where does the tour start and finish?
Our tour starts at near London Bridge Station and ends by Waterloo Station.
How long does the tour take?
The tour takes between 2 and 2 ½ hours. We meet close to London Bridge station.
Do we visit other historic sites?
We do however we do not enter any of them.
As they are a private tour can I change dates and time of the tour?
On most occasions yes we can change the time and sometimes day. However this is based on if we have other bookings.
Do you go to the Doctor Who Shop?
No we are unable to on the tours as it is outside central London.