Doctor Who Tour London'  offers unique, professional, informative and above all a FUN walking tour in London.
Our Amazing World of Doctor Who Walking Tour London Private tours (Unofficial) offers everyone a unique, light hearted look at 50+ years of London Doctor Who locations across the capital.
All of our guides are themselves Doctor Who fans and have grown up with the programme, with knowledge covering the shows history. You will find them happy to discuss the episodes together with pointing out other areas of interest.
Something for everyone! Fans young and old alike!
Why pick us why private tour?
No group tours your tour will be for your group only
Book the date and time that suits you
The tour will be at your pace
Not only see the locations but the clips from the series
All our guides are Doctor Who fans
You book directly with us
We have no booking fees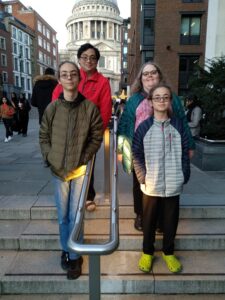 Everyone is included and you will find the guide will not only advise you about Doctor Who but a range of fun locations that include historical notes, TV associated locations such as (to name a few) Harry Potter, James Bond and some famous film spots along the way.
We are sure you will enjoy our leisurely two to two and a half hour walk through London. We are take one bus journey on the tour so you must have a valid oyster or travel card.